SUMMER SALE HAS SUMMER!UP TO 60% OFF
Free Organic Cosmetic Set for Orders Over $50
Gift Box with greeting card!
Vanilla Sky Collection
Could the morning of her wedding day look more luxurious?
Tenderness Collection
Sheer mesh and weightless viscose are the best companions when you want to amplify your adventurous and sensuous nature.
Why JVJ story?
Made from 95% organic materials such as organic linen, viscose and cotton, our underwear collection, which feature only 5% synthetic materials, are the pure definition of quality. We do not only feature the best viscose, polyamide and elastane content obtainable in the market, we also go the extra mile to make sure our products are all handmade, with certificates of quality as proof.

The lingerie industry is littered with substandard, inconvenient yet expensive underwear. This is what we aim to correct, with our affordable, yet classy underwear collection, all made in Europe. There are so many reasons to shop with us, but the top of it all is the confidence we help you regain.

JVJStory underwear is the perfect picture of comfort.

read more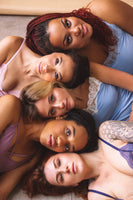 Organic cotton collection
Organic cotton collection
JVJSTORY is the perfect homewear for comfortable sleep and relaxation
Cotton Pajamas will perfectly emphasize your body and will not hinder your movements.